SureFireSolutions.com is the leading provider of affordable, powerful and easy-to-use Dealer Management Software(DMS) for the Automotive, RV, Marine and PowerSport industry. Using our software will significantly streamline your dealership's business process, saving you time and money.
We have a complete end-to-end system including Finance, Insurance (F&I), Customer Retention features, Data feeds to many advertising firms, Inventory, Sales, Parts, Service and POS for the RV/Marine/Motorsport industry.
Our deep Accounting Integrations with both Quickbooks and Sage 50 Canadian editions is what sets SureFire DMS apart from other DMS companies.
What's New at SureFireSolutions.com?

Used Car Dealer Association of Ontario - We partnered with the UCDA of Ontario in 2013. UCDA which provides its members with substantial savings...see our UCDA Pricing Plans
In addition to producing high definition UCDA compliant Bills of Sale and Trade Appraisal agreements, you can do your UCDA searches at the click of a button!...see UCDA Searches FAQ
QuickBooks 2022 Desktop Pro - Canadian Edition – We have now released our on-demand integration with QuickBooks 2022 Desktop Edition so that you can eliminate dual entry of your data. This significantly reduces the amount of Bookkeeping time required at your Dealership!
Sage 50 2022 Accounting - Canadian Edition – There is increased functionality to upload and change deals/vehicles/costs into the previous fiscal year if required. We have dramatically increased our upload speed so that more than 500 transactions are uploaded in just a few moments.
SureFire Parts & Service Module - Our integrated Parts & Service Module for the Automotive/RV/Marine/Powersports industry is now available!!!
SureFire DMS VIN Decoder for Cars & Light Trucks - We have added a VIN Decoder service to SureFire. Now just add the new stock number and VIN and most of the details like year, make, model, trim, engine, transmission, fuel economy and a list of equipment and options are automatically loaded without lifting a finger...see our YouTube video demonstration.
Web Integration – We have daily automated data and image feeds to ontariocars.ca, CarPages.ca, AutoTrader.ca, Kijiji.ca(cars and light trucks), carGurus, FlexDealer, eDealer, SiriusXM Radio, Rides.ca, vAuto, and Castanet.net. ***If you are a UCDA Member there is no additional charge to send data electronically to ontariocars.ca and CarPages.ca***
DealerTrack Integration – We have a direct two-way link with DealerTrack Canada. This allows for uploading Customer information, pre-authorizations and downloading approved deals directly into SureFire DMS. No more cutting and pasting between DealerTrack and your existing DMS software.
Lubrico Web forms – If Lubrico is your warranty company...then push one button and load all customer and vehicle information directly into the Lubrico web portal.
Available – a new Parts & Service module for Auto, RV, Marine and Motorsport Dealers.
Powerful
SureFire DMS is fully integrated with both Quickbooks Desktop Pro and Sage 50 (previously Simply Accounting).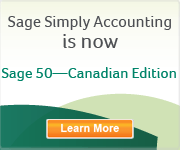 Reduce your accounting costs as dual data entry into your accounting system will be a thing of the past.
All your vendors, inventory, inventory costs, customer and sales are sent to your accounting program in minutes... Bookkeeping time is dramatically reduced and at the same time Bookkeeping accuracy goes to 100%. Watch a YouTube demonstration on how easy it is...
Daily Data Feeds
We can provide daily data and image feeds to your website or advertizing firm such as vAuto.com, kijiji (car & light trucks), autovelocity, FlexDealer, carpages.ca, Castanet. No more going on-line to update your information.***If you are a UCDA Member there is no additional charge to send data electronically to CarPages.ca***
Here are a few examples of some of our client's automated websites:
Easy to Use
"…within 4 hours of our introduction to the system, we were using all of its features WITHOUT support! In our opinion, SureFire DMS is the ONLY way to go!"
~Denis G. Hostland, A.A.Sc.
President / CEO Good Cents Discount Auto Mart Ltd.
See what our customers are saying in Testimonials.
Affordable
Our focus is to provide a software application that is packed with value and is competitively priced. Up-front costs are nominal allowing you to get started at minimal cost. We are excited to offer smaller Dealers a FlexPlan payment option which allows them to pay on a vehicle-sold basis...contact us at 1-877-214-2522 for more information.
Detailed Reports
The system generates on-the-fly business analysis reports, including: Average Gross Profit, Average Reconditioning Costs, Days-in-Stock, and Average Cost per Invoice....see examples
View Sample Reports
More Information
To find out how we can exceed your expectations, contact us at Sales@SureFireSolutions.com or call us at 1-877-214-2522 Ext.1

This website is owned by SureFireSolutions.com Inc. SureFireSolutions.com Inc. is independent from Sage and is not authorized to make any statement, representation, or warranties or grant any license or permission on behalf of Sage regarding any product, service, or website content. Certain materials made available on or through this website are owned by Sage and cannot be used without the prior written permission of Sage