Flowers from one of our happy clients! (#4)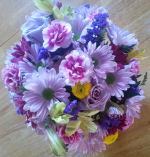 Testimonials
1) "Just started using Surefire DMS and am blown away by just how amazing and simple this product is to use!" (Apr 26/2019)
Johnny Beckett Co-Founder & CTO - Electric Vehicle Network, Toronto ON
2) I would like to thank Don and his team for the great job during our transition from our old DMS system to Surefire DMS. Your team was able to customize the software to our needs in real time. The Tech Support and training was excellent!
Changing a DMS can be a stressful time at a dealership. During the process there was no lost data and the process was done in a timely fashion.
I am also excited about the affordability of Surefire DMS. The software is easy to learn, customizable and scalable. I would strongly recommend Surefire DMS to any dealer big or small.
Scott Davidson - President Stop 23 Auto Sales Ltd., Orangeville Motors, Davidson Fleet & Leasing. ON
3) We have used Surefire DMS for 3 years and it has proven to be the best investment for our business. The product is extremely easy to use. SureFire has everything a dealership needs to run smoothly and efficiently. We love the way it holds all our inventory and customer information together.
The fact that SureFire interfaces with DealerTrack and Sage50 Accounting has made operations a breeze. The staff at SureFireSolutions are excellent. Everyone is friendly, professional, and very efficient at what they do. Sales and Tech support are lightning fast.
We have recommended this product to many other dealerships and will continue to do so. Thanks SureFireSolutions your're a great team to work with!
Carey and Annette Zawadzki - Car Town, Arnprior, ON
4) One of our clients recently sent our Training Rep flowers as shown in the image above with a card saying...Thank you for all your support and thank you for being patient with me!
Alex Faris - Moody's Motors, Gloucester, ON
5) As a small dealer, I really appreciate the Surefire DMS pay-as-you use option - I realize the value I am getting from having a full-featured system at a price I can afford. My UCDA dues and my fees for Surefire are two of the best investments a new dealer can make from my perspective. Thanks again!
Charmaine Kissmann - Next Car 4 U, Saint Catharines, ON
6) The transition to Surefire DMS from our previous system was seamless & the ongoing support has been outstanding! We would highly recommend to any Dealership.
Stefanie Bernard - Bernard's Quality Cars, Flesherton, ON
7) We have been using Surefire DMS for years now and are very pleased with both the software and their great support!
Omid Farhangi - Owner, York Auto Centre, London, ON
8) Surefire DMS is an accurate and user friendly tool that has been a great addition to our Dealership's operations!
Josh Pringle - Financial Service Mgr., Maple Leaf Motors, Sault Ste. Marie, ON
9) Having used numerous different systems here and at other Dealerships I find Surefire DMS to be one of the best systems I have ever used. ..see full testimonial
Britt Russman - Business Manager, All Roads RV Ltd.,Prince George, BC
10) I would like to congratulate SurefireSolutions on a truly remarkable Dealer Management System (DMS) that has significantly increased the productivity of my office therefore giving me more time to spend on other parts of my business...see full testimonial
Don McLachlan - Owner, McLachlan Automotive, Trail, BC
11) We have been using the SureFire DMS for almost 5 years now and I can assure you that it was the best decision we have made...see full testimonial
John Judd - President/Owner, By-Pass Auto Sales, Aldergrove, BC
12) SureFire DMS has proven itself to be adaptable to the uniqueness of our everyday operation as well as extremely user friendly...see full testimonial
Robin Williams - Business Manager, Swan Lake Motors, Vernon, BC